Wednesday, 'my Saturday', is over. Thank you, Wednesday, for being an ugly, wet, cold, windy and grey day. We woke up, sipping our coffee after a restful sleep on our new pillows, looking out the window at the type of day David Duchovny would bitch about on talk shows. After deciding to eat breakfast at home, showering and getting ready to fight the depressing low ceiling outside, we dragged ourselves into the car to do a new activity. Over choices of the Aquarium and lunch with a relative, we opted for bowling - 10 pin OF COURSE!
Of course, it was definitely fun for an hour or so. I won 2 outta 3 games! We were both pathetic haha but it was fun. Then the decision on lunch, which is always a dilemma since we have set restaurants we like but we are getting bored of them. Hence
our trip to Locus yesterday. He chose Pho so off we went to Pho Huang on Main Street. We ate our meal and then looked at our watches - 2:30pm. My choice was next. With the rain and the food making me sleepy, I would have rather crawled under a blanket and napped but I made a decision which I would regret.....METROTOWN! NOOOOOOOOoooooo!
So, driving the longest, most irritating street ever in Vancouver, Kingsway, proved to turn my mood, as I groaned and moaned (that is a weak version of my real reactions) at the drivers in this city. We arrived to a boring, uninteresting mall. We went to T & T Market and I was about to pass out from the violent olfactory assault from a combination of mildew, rotting fish and indescribable ammonia. I actually had to breathe through my mouth while wondering aloud how no one was smelling the horrendous odour.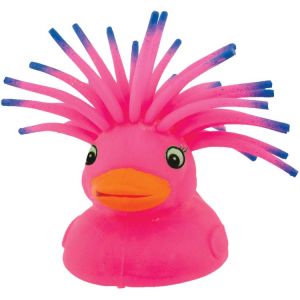 While my guy was in the washroom I found a vending machine and popped in some coin to buy us cute toys...a jelly yellow LED glowing duck with an afro made of gel and a mini pirate voodoo doll. Those at least put a smile on our faces. Then off to Winners, which is my rainy day cure-all. Unfortunately, the boredom was not possible to hide on my Frog Prince's face so I forced him out of there. We quickly left the mall as I admitted my regret and disappointment at my desperate decision. I hate wasting days off sitting around doing nothing but this was not the best idea.
So, off to my apartment and another long hour of deciding on where to eat. We settled on Olympia on Denman and ate our dinner discussing our day of mediocrity and how sore we will be tomorrow. We are not spring chickens anymore... He will be off to Vegas Saturday morning for an NAB Conference for 4 days. I am back to work tomorrow. Yawn. I think we should have overdosed on Vitamin D for extra 'sunshine' today. Oh well, hopefully when he returns, we will have 'something to do'!!!